Stephen Jenkinson – two workshop weekends in Wales with Stephen Jenkinson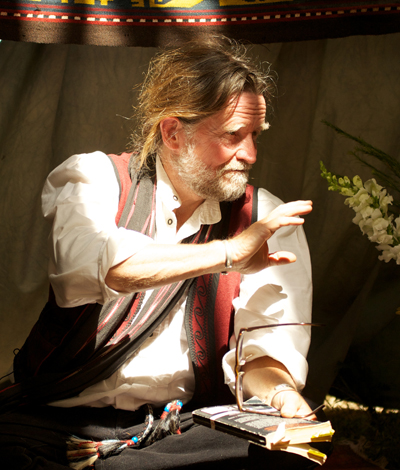 The Meaning of Death
Saturday 22nd – Sunday 23rd November 2014 – Tredegar House, Newport Gwent         
Death – the cradle of your love of life  
Saturday 29th – Sunday 30th November 2014 – Small World Theatre, Cardigan     
Tickets per weekend: Full £160. Includes lunches and refreshments but not accommodation. Concessions are available on request, please email explaining your circumstances. Discounts also available if you wish to attend both weekends. holyhiatuswales@gmail.com
Stephen Jenkinson is a teacher, author, storyteller, spiritual activist, farmer, ceremonialist and founder of the Orphan Wisdom School, Ottawa, Canada, a teaching house for the skills of deep living, good dying, and crafting human culture. It is a redemptive project, rooted in knowing history, being claimed by ancestry, working for a time beyond our years www.orphanwisdom.com
"From a young age we see around us that grief is mostly an affliction, a misery that intrudes into the life we deserve, a rupture of the natural order of things. Here's the revolution: What if grief is a skill, in the same way that love is a skill, something that must be learned and cultivated and taught? What if grief is the natural order of things, a way of loving life anyway? Grief and the love of life belong together. They are natural human skills that can be learned first by being on the receiving end and feeling worthy of them, later by practicing them when you run short of understanding. In a time like ours, grieving is a subversive act".
Two screenings of the film Griefwalker with Q & A with Stephen are also took place at Cube Cinema, Bristol and Theatr Mwldan, Cardigan
The Meaning of Death   Tredegar House, Newport Gwent
Saturday 22nd November 2014 9.30 am – 3.30 pm Sunday 23rd Nov 10 am– 3.30 pm
'This is a day to practice something of the crazed wisdom and radical etiquette of the ending of days, which is our human birthright'.
What began as technological sophistication and therapeutic savvy is now what must be called Health Madness, and it's home ground is the grief-and-loss industry. This meeting will probe the cultural poverty of our time that masquerades as individual freedom, and consider deeply the project of reviving the withered imagination which lingers in each of our attempts to cope, hope and, when that fails, dope. Themes to be considered include: languages of essence and relation, the tripod of health, faithful witness unto death, the spells of eternity and universality.
Death – the cradle of your love of life  
Saturday 29th – Sunday 30th November 2014 – Small World Theatre, Cardigan    
Saturday 29th November 2014 9.30 am – 3.30 pm. Performance: 5.30 pm re-member 3 Alisa Richardson. Sunday 30th November 10 am – 3.30 pm
'Not success. Not growth. Not happiness. The cradle of your love of life…is death'
The relentless pursuit of self-reliance and self improvement is rooted in the lost connection to common stories, homeland and ancestors that bind and unite people. The times now demand that we recognize the world's suffering in our own. Stephen Jenkinson teaches the skills of grief, broken heartedness and spiritual activism, all harnessed to the long overdue project of building a world-feeding inner life whose joy is rooted in knowing well its end.
Most dying people's fear of what will become of them is bound up with their fear of what we will do with them after they die. They fear most our ability to live, eventually, as if they'd never been. This is the exponential consequence of living without ancestors, that we may have lost the ability to become one. The willingness to remember great sorrow, unsuspected loss, blank pages in the story of who we are, this is grief in action.
Stephen Jenkinson Film – The Making of Humans
Performance by Ailsa Richardson Saturday 29th November 5.30 pm FREE ENTRY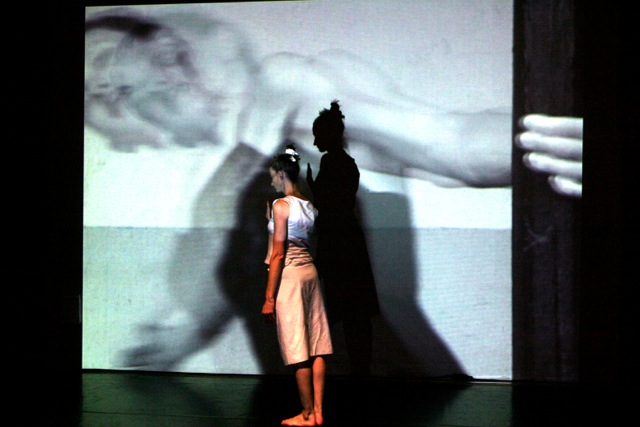 re-member (3)  a solo performance in three parts  by Ailsa Richardson, video created in collaboration with  video artist Mel Shearsmith
re-member (3) integrates live action, sound, and video remote and abandoned locations in West Wales.  What does it mean to lose another, one's place in the world, one's identity?  Powerful and moving visual imagery revealing conflicts between memory and experience, past and present, nostalgia and nightmare.
when we re-member we re-collect, put things back together
a re-membering follows a dis-membering
after a loss we put our selves and our bodies back together in a new and different alignment
our re-membering defines us
the definition is up to us
infinite in possibility
This performance has been through many reincarnations and this latest one is a re-making of the performance 10 years after the initial video was made. It becomes another layer of remembering and interplay of the live action of the artist's body with the virtual artist's body (recorded in the video) of 10 years past.