Friday 16th October, Theatr Gwaun, Fishguard 7 pm Screening of Seven Songs for a Long Life followed by Q & A with director Amy Hardie.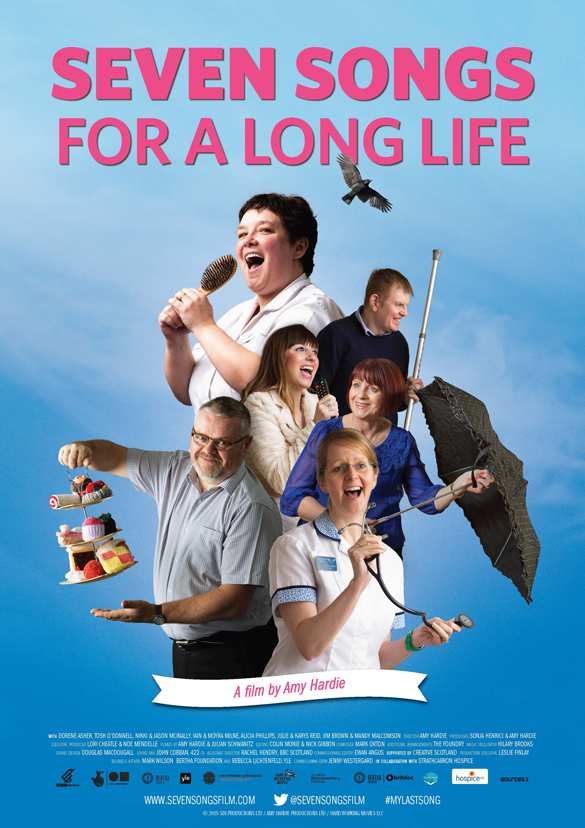 Seven Songs documents the lives of six day-care patients in Strathcarron Hospice, following them between home and hospice as they navigate their way through the end of a future that faces all of us. From the moment Tosh refuses to fill in his assessment form and serenades us with a remarkably good Sinatra song, this documentary grabs life through song. The patients allow us into tender, vulnerable and funny moments of their lives. Singing unlocks the patients' pasts, guides their dreams and their futures. Encouraged by one nurse who loves to sing, and a collaborative filming process, they wrestle with the new insecurity facing us all: recent advances in biomedicine mean we can now live for years rather than months after a terminal diagnosis. Sometimes. But not every time. How do we cope with this uncertainty? Strathcarron's patients are quirky, wry front-runners in a journey that we will all face.
Director Amy Hardie said: "Being an artist in a medical establishment you get good at hanging around. Feeling useless becomes your evolving art form. Finally the patients took pity on me. Maybe they were feeling a bit useless too. Disease can do that. Then they started singing to the camera. I loved it. But the songs that came from the patients at Strathcarron were so full of passion, dreams, anger, regret, acceptance…I felt it was their whole lives tunnelling into the camera microphone. We started making little music films together, 3 minutes, 5 minutes, interspersing the song with observational footage of their time in the hospice and at home.
The requests came in thick and fast and I learnt an interesting thing: when you've been told you have a disease that is going to kill you, you don't waste time. And you want pleasure. To receive it and to give it. These are extraordinary moments, or maybe they are ordinary moments. Ordinary every day heroes. That's as true for the staff as for the patients. It was a privilege to be allowed to 'hang out' for four years. Just as it takes a village to raise a child, it takes a community to help face your own mortality, making the process of dying itself safe, individual, and as gentle as possible."
A documentary director/producer with several international awards, Amy Hardie graduated from the National Film and Television School with the BP Expo award for best UK graduation film. She set up the Scottish Documentary Institute in 2004 with Noe Mendelle, and Docspace, dedicated to increasing an audience for serious documentaries.
Audience comments:
Deepening life experience – something that many people could be enabled to really value life and other people through watching. Much credit to the integrity of all involved in the creation of this film experience
It addressed the most difficult topic with humour and sympathy and shows that even on the verge of death we are still alive and can still be in control of the choices we make. Being true to yourself is so important. Living in the moment is critical, and finding a way to achieve a sense of peace and acceptance is something that we can all learn from.
Saturday 19th September Theatr Gwaun, Fishguard 7 pm A talk by Helen Knowles, founder of the Birth Rites Collection followed by a screening of Born (2008 56 mins) directed by Andy Lawrence.

Birth Rites is a collection of contemporary art on childbirth, founded by artist/curator Helen Knowles in 2008. The collection is housed between the Royal College of Gynaecologists and Obstetricians, London and the Midwifery Directorate in Salford University and is on permanent public display. The collection includes; painting, video, new media, performance, photography, wallpaper, artist books, sculpture, tapestries, ceramics and drawing.
Since 2008, Birth Rites has collected 67 donated artworks including Judy Chicago tapestries brought to the UK with the support of Salford University Collections and work by Ana Casas Broda and Tabitha Moses. Birth Rites held three symposiums at the Whitworth Art Gallery/Whitechapel Art Gallery (2011) and Salford University (2013) and run a bi-annual competition for new works.
Helen Knowles presented some of the works in the Birth Rites Collection as well as some insights into the film, Born and a background to how the collection was set up.
Some audience comments:
The film was raw and shocking, emotive, beautiful and in parts made me feel some sadness. I would have liked the discussion to continue…it's a deep topic and I enjoy hearing and joining in, in the debate

Very thought provoking, inspiring and empowering. Thank you!

Excellent – very inspiring, stimulating – unusual and great to have discussion
Griefwalker – directed by Tim Wilson 2008 70 mins 9 secs
and Q&A with Stephen Jenkinson
Thursday 20th November 2014                                                                                Cube Cinema, Bristol 7-10 pm
Tickets £10.50 / £9.50
Friday 28th November 2014
Theatr Mwldan, Cardigan 6pm – 8pm
Tickets £10.50 / £9.50 
This documentary introduces us to Stephen Jenkinson, the leader of a palliative care counselling team at Toronto's Mount Sinai Hospital. Through his daytime job, he has been at the deathbed of well over 1,000 people. What he sees over and over, he says, is "a wretched anxiety and an existential terror" even when there is no pain. Indicting the practice of palliative care itself, he has made it his life's mission to change the way we die – to turn the act of dying from denial and resistance into an essential part of life. A stirring meditation on what it takes for us to fall in love with our lives.
Theatr Gwaun, West Street, Fishguard

Friday 21st March 2014, 7pm
The Lover and the Beloved directed by Andy Lawrence and The Edge of Dreaming directed by Amy Hardie
Both directors were present to take part in a discussion with the audience and answer questions about the films. The screening was part of the ongoing Holy Hiatus project The Quick and the Dead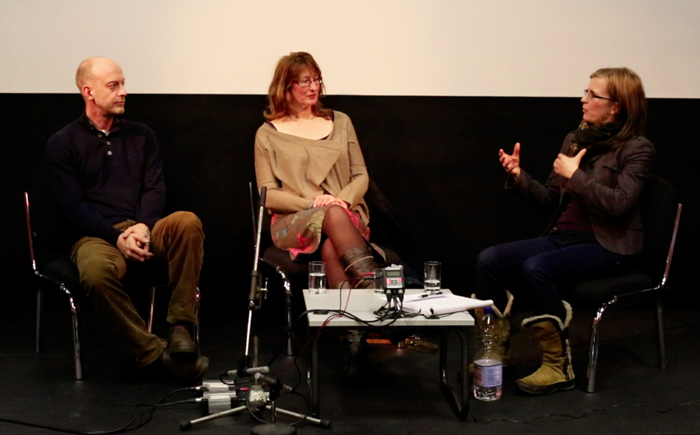 Left to right: Andy Lawrence, Amy Hardie and Ruth Jones in Q & A after film screenings
Audience comments on the screening event:
"One of those seminal, insightful film showings and discussion. A rare occasion to peer into the cracks"
"A stimulating and engaging event throughout. The two films were complimentary to each other and the post-screening discussion seemed relaxed, inclusive and focused. I liked the sense that the event was about more than being informed and engaged, that it was a space for sharing fundamental experiences of life, attitudes to the world and the reality of death. Food for the soul."
 

"Professional, thought provoking – intense. I was thrilled that such an event took place in Fishguard"

"Intense films, I felt like I'd been hit by a ten tonne truck! Can't stop thinking about them. Amazing, beautiful and enlightening. Thank you for blowing my mind"
The Lover and the Beloved
Director Andy Lawrence, 2011, 70 mins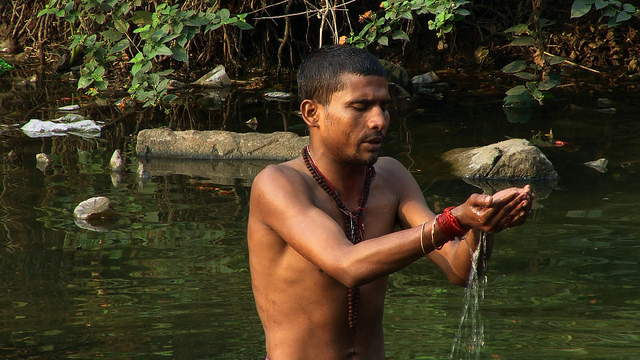 A documentary feature film about one man's journey across northern India and his search for enlightenment. Rajive McMullen, a history teacher suffering from a debilitating illness, makes the painful journey into the heart of Tantra, searching for meaning in holy shrines, coming close to death in cremation grounds and enjoying the chaos of the Aghori seekers.
This film offers dramatic insight into Tantrik ideas about the life cycle, particularly death, and contributes much to our understanding of how we seek knowledge and how we die. The Lover and The Beloved also represents a realistic attempt to understand both the practice and illusive theory behind Indian Tantrism, and is intended to challenge widespread Western misinterpretations of this system of thought. Along the way we visit Kamakhya Devi in Assam and Tarapith in West Bengal, two of the most important centres of Tantrik Hinduism.
Click here to view trailer
Reviews
"The Lover and the Beloved captures the atmosphere of this kind of milieu extremely well and I found it genuinely compelling viewing"
(Jonathan Parry LSE, author of Death in Banaras
"…dazzled, moved, shaken, engaged… the evocation of a certain and wonderfully weird India is perfect."
(Lee Siegal, Pulitzer Prize nominee and author of Net of Magic: Wonders and Deceptions in India)

The Edge of Dreaming
Director Amy Hardie, 2010, Running time 73 mins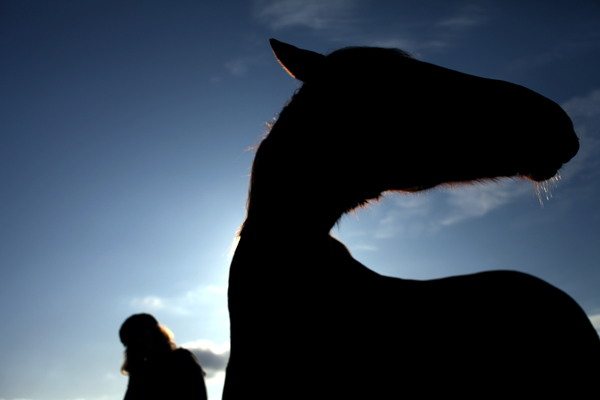 Neuroscience, family life, dreams and death collide in this engrossing investigation into the human subconscious. Told over one extraordinary year, it is a fascinating, intimate story, high in visual pleasure.
This is the story of a rational, sceptical woman, a mother and wife, who does not remember her dreams. Except when she dreamt her horse was dying. She woke so scared she went outside in the night. She found him dead. The next dream told her she would die herself, when she was 48.
The film explores life, dreams and death in the context of a warm, loving family whose happiness is increasingly threatened as the dream seems to be proving true. Eminent neuroscientist Mark Solms gets involved, and a shaman, which reveals a surprising twist to the tale.
Click here to view trailer
Reviews
"A profound piece of work that is earthy and redemptive at the same time as being reflective, questioning and diligent, so that the overall effect is emotionally destabilising and intellectually challenging. A poetic masterpiece."
(Stuart Delves, Henzteeth)
"Poignant and fascinating exploration of mortality, mourning and how fear can attack the body."
(Independent Pick of the Day)
"Evocative, provocative and absorbing..compelling"
(Time Out Critics choice)
This event is funded by the Arts Council of Wales